Meet the Staff Members of B & B
Please meet our staff members. We feel, that we have a very professional group of staff members both in the gym and in our office. Our club has a 100% back ground check policy as we are members of the USAIGC program and this is a mandatory policy to be a member. If you have any questions, please feel free to give us a call at 937-879-7563 or e-mail us at bbgym@hotmail.com.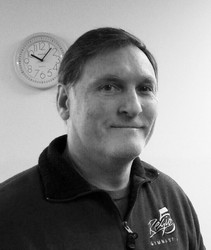 Owner / Main Gym Program Director (Bill Logan):...... Coach Bill teaches pre-school, recreational classes and team. Mr. Bill was in the Air Force for 14 years as a Jet Engine Technician. He graduated the Air Force NCO Academy in Management and he has two years college for Aeronautical Engineering. Mr. Bill is safety certified through USAG and is a professional member and he has the Heads Up certificate for youth concussions course. He is a board member of the USAIGC College Bond Program. Mr. Bill competed in men's gymnastics and sports acrobatics from 1972 to 1989, he has been coaching gymnastics since 1976, he has coached numerous gymnasts to state, regional & national titles.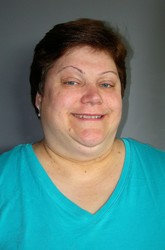 Owner / Kinder Gym Program Director (Bea Logan):...... Ms. Bea is the Kinder Gym Program Director, she teaches the mom & tot classes (TB), recreational pre-school (GB) & (LL) classes. Ms. Bea also manages the main office and office personnel. Ms. Bea was born in the Netherlands (Holland) and graduated there from business college. She met Bill in Holland in 1979, while he was stationed (USAF) there. She has been teaching gymnastics since 1991 and loves teaching, especially the younger crowd. Ms. Bea is a professional member of USA Gymnastics and is Safety Certified. She continually attends pre-school clinics and holds numerous certificates.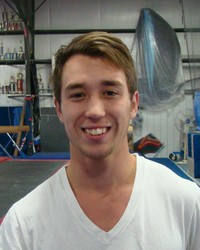 Recreational Teacher / Coach (Ryan Couch):........ Mr. Ryan teaches our GL3 Recreational Team, he also teaches GL1 / GL2 recreational classes and the tumbling classes. Mr. Ryan does martial arts tricking on his off time and loves to teach others to do gymnastics and tricking. Mr. Ryan has his level 1 accreditation with USAG, he has the Heads Up certificate for youth concussions course, he has been teaching since 2010. July 2015 he attended the USAG National Congress to further his education.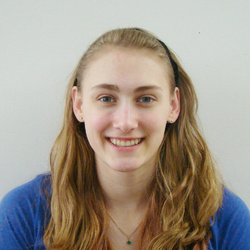 Head Team Coach / Super League / Pre-School Teacher (Terri Logan):........ Miss Terri is our Head Coach for our level 4 - 10 & Xcel teams. She teaches pre-school (GB), (LL) and a special advancement class (Super League). Miss Terri has 16 years as a competitive gymnast and has been teaching since 2009. Terri is the daughter of Bill & Bea Logan: she is a graduate from Greenon H.S. with Honors. Terri is attending Wright State majoring in Biology & Pre-Med under graduate courses. Terri was the 2013 USAIGC World All-Around Champion, she also won gold on bars & floor and silver on vault. She was also awarded "Athlete of the Year" at the USAIGC World Championships. In July 2015 she attended the USAG National Congress to further her gymnastics education.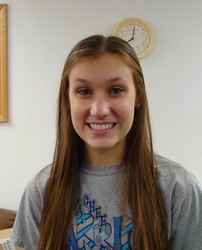 Recreational Teacher (Julia Hitchcock):........ Miss Julia teaches our Pre-School (GB, LL) and recreational (GL1, GL2 & GL3). Miss Julia attends Wright State majoring in Biology / Pre-Med undergraduate courses. Miss Julia has been teaching since 2012.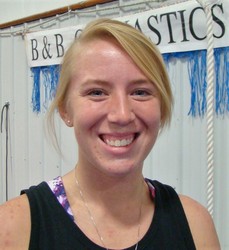 Kandra Saxarra - has been teaching at our gym since June 2015. She teaches Kinder Gym (Gym Bugs and Little League) and Main Gym (Girls Recr. Level 1 and 2) classes. Kandra enjoys martial arts tricking. She is a student at Sinclair Comm. College to become a veterinary technician.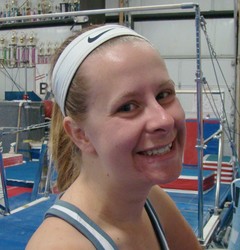 Amy Ward is the newest addition to our teaching staff (August 2015). She has been part of this sport for the last 19 years and has competed for 10 of those (up to level 8). In her spare time Amy enjoys hiking with her dog, yoga, movies and hanging out with friends. She plans on going back to school to complete her physical therapy degree.
Recreational teacher, Sydney Currier. Teaches in the Kinder gym ages 4 to 7 yrs and in the main gym ages 8 & up level 1 - 3. Sydney has been involved in gymnastics for 10 yrs and competed up to level 8 in USAG and in High School, she plans on pursuing a career in nursing.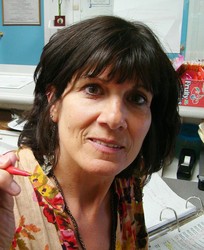 Office Personnel (Jody Ramsey):........ Miss Jody works in the office on Tuesdays and Thursdays and also subs for others when they are unable to make it. She has a degree in Accounting and is CPR / AED certified as well as being CPI trained. Miss Jody has 25 years + experience and has been working at B & B since 1999.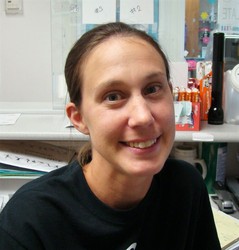 Office Personnel (Erin Langenkamp): Erin works in our office part-time on Fri and Sat since April 2015. She was a competitive gymnast herself for ten years. She likes to run, bike, and do yoga in her free time. She also likes to travel and spend time with friends and family. When not at B&B you may find Erin working at your local supermarket or delivering your newspaper. She is a graduate of WSU in nursing. Erin loves being a part of gymnastics and is always ready to answer any questions you may have.